Mp4HtcHD v1.8 - Mp4 Video Converter for Htc Touch HD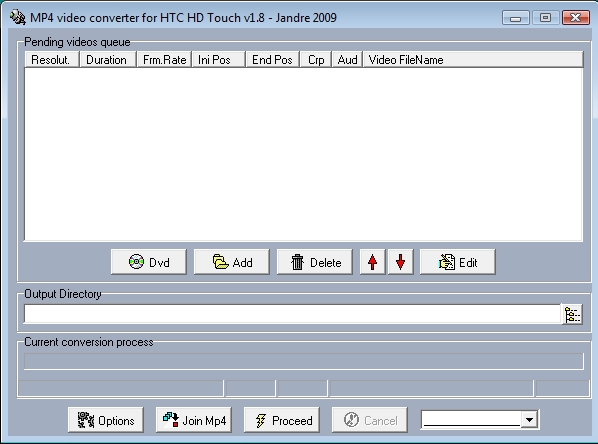 Do you have a good collection of videos that you want to watch on the move ? Are you finding it hard to convert it to the right format to view on your Touch HD ? Mp4HtcHD is a windows mobile freeware that converts video to the right format to be played on your windows mobile device.
Feature:
- Support for avi, mp4, wmv, mkv, mpg, m2v, mov, vob, flv. Dvd directly rip included.
- Adjust bitrate to resolution output video (from 250 to 800)
- Lets crop to our HD ratio aspect (5/3), and change the input video aspect ratio
- You can add, change order, or delete videos of the video pending queue in any time.
- Supports srt subtítles (if a srt file with same name is present)
- If heigth is greater than 480, it scales video
- Shows complete information of the video to convert (resolution, framerate, duration, etc)
- If input video includes multilanguage (Dvd, vob, mkv), you can select audio language, and subtitles language.
- You can select for each video the start and end position, and preview the video.
- You can join Mp4 of same resolution (if a video is splited in two videos, you can convert each one, and after join them)
- You can select if computer hibernate/suspends or shoot down after converting process.
- If application is minimized you see actual progress.
- Multilanguage interface support (actually English, Spanish and Catalan)
http://rapidshare.com/files/19449820...1_.8_Setup.rar