Motorola Phone Tools 4.5 Xp/Vista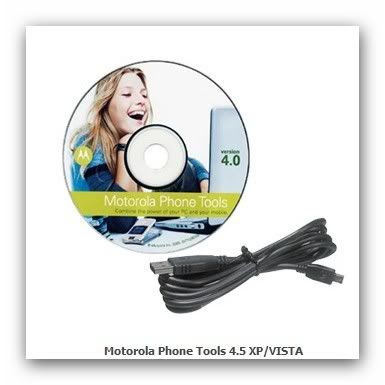 Buy Motorola Phone Tools 4.0 to download and back-up your contacts, edit pictures and create ringtones. Personalize your wireless communications.
Motorola Phone Tools 4 is the ultimate in personalization and protection application. Download Phone Tools 4 and immediately start taking advantage of a wide range of cool capabilities.
Synchronize
Phone Tools 4 ensures you'll never lose your data if you lose your phone. Transfer and store all your phone numbers on your computer. With just one click synchronize all your phone contacts, calendar and tasks with major applications including Microsoft Outlook, Outlook Express, Lotus Notes or the in-built Motorola Phone Tools phone book and calendar client. An intuitive synchronization wizard guides you through the process.
Personalize*
Use Phone Tools 4 to personalize your phone by creating your own ring tones and adding personal pictures or videos. Phone Tools 4 software lets you transfer and store pictures taken with your cell phone camera to your computer, so you never have to worry about filling up your cell phone memory again!
Text Message*
With Motorola Phone Tools 4, you can choose to send text messages from your computer keyboard for greater speed and simplicity, minimizing dependence on the smaller phone keypad for typing SMS.
Go Online*
Phone Tools 4 lets you use your cell phone as a modem to connect your laptop to the Internet virtually anytime, anywhere... even at the airport, in a car, bus or other vehicle.
Connect with Bluetooth®**
Motorola Phone Tools 4 software is already Bluetooth® compatible. If your phone has Bluetooth® wireless technology, Phone Tools 4 allows you to connect your phone to your PC using Bluetooth® technology, provided your PC is also Bluetooth® compatible. If it is not, combine Motorola Phone Tools with Motorola's Bluetooth® PC Adapter and make your computer Bluetooth® ready (PC Adapter PC850 product sold separately.)
Upgrade
Included in the purchase price of the downloadable Motorola Phone Tools 4 are upgrades to newer versions of the Phone Tools software.
Mobile Phone Tools 4.0 System Requirements
* Windows® 2000, XP, Vista Operating Systems
* Pentium 466MHz or higher CPU
* 64MB RAM
* 120MB Free Hard Drive Disk Space
* 256 Color VGA or SVGA monitor
* MPC2 compatible CD ROM drive
* One available USB port
* Mouse or other pointing device
Connection Options
* Bluetooth®
* Cable (Mini USB or CE Bus)
What you get:
* Quick Start Guide (mailed separately)
http://rapidshare.com/files/83888332...pVista_SAW.rar